British Cheese on Toast – revisited
Sept 3rd 2020: Official Launch of the first hardback edition of Steve The Cheese Parker's new book
CONGRATULATIONS, STEVE!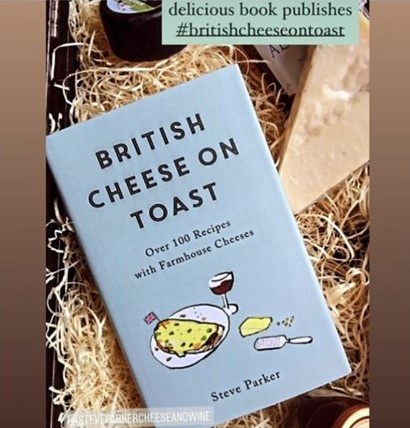 ---
Our food and wine pairing guru, Steve The Cheese, sent us this message:
"Some of you will be aware that last year I self-published my first book and a HUGE thank you to anyone who bought a copy – THANK YOU.
Following publication, a major international publisher (Hachette: Headline) approached me and, as a result, have taken over the publishing.
Thursday 3rd September will see the official publication and launch of 'British Cheese on Toast' in its new hardback format – updated with superb cover design and illustrations by top illustrator, James Oses.
Now only available through Amazon, but also in leading bookshops and online booksellers
As well as producing a top quality book, Headline's influence means that it has received a significant amount of press coverage. As a reader of this newsletter, I am giving you the inside track as to where and when you will see it over the next few weeks.
Saturday 5th September (yes this Saturday) A feature in The Daily Mail. A journalist and photographer came to the house last week to interview me and take photographs as I prepared three of the recipes from the book for them – can't wait to see the finished result.
Thursday 3rd September (publication date) A feature with recipes from the book in The Daily Star.
Sunday 6th September An interview in The Sunday Post 'On My Plate' section.
October Edition A feature in the monthly edition of Take A Break magazine.
I am sure you can understand how excited I am to have such exposure and if you feel so inclined you can pop out and take a look at the newspapers and magazine mentioned above.
(It is worth checking the newspaper first as editors can sometimes change publication dates!)

Here is an extract from the publisher's website…..

A uniquely British phenomenon, there is something magical about cheese on toast. Two simple ingredients that, when put together, are the greatest of comfort foods and the quickest of meals. At its most basic level, this staple of many a British teatime is a delicious pairing, as award-winning cheesemonger Steve Parker shows in this celebration of the nation's favourite cheeses.

British Cheese on Toast will take you on a tasting tour of British cheeses, showcasing the absolute best along the way. From Cheddar to Wensleydale via soft, blue, smoked and goat's, in this book you'll find over 100 recipes plus advice on which cheese to use with which type of bread, as well as suggestions for innovative sweet and savoury flavour combinations to take things to another level. 

With a handy guide to shops where artisan cheeses featured in the book can be bought, as well as tips on using supermarket and own-brand cheeses, British Cheese on Toast is a complete celebration of this traditional meal. The perfect gift for cheeselovers everywhere.

Recipes include: 
*Isle of Mull Cheddar with Whiskey Soaked Haggis
*Waterloo with Roasted Cherries
*Tunworth with Roasted Garlic, Rosemary and Honey
*Grandma Singleton's Lancashire Macaroni Cheese
*Appleby's Cheshire with Apricots
*Real Yorkshire Wensleydale with Crystallised Ginger
*Old Winchester Aubergine Parmigiana
*Colston Bassett Stilton with Figs and Honey
*Cornish Blue with Tenderstem Broccoli and Almonds"
At GWO we are delighted to have Steve as a colleague; you can meet Steve as he is a regular contributor at our online tasting events
Congratulations again Steve and good luck with the book!