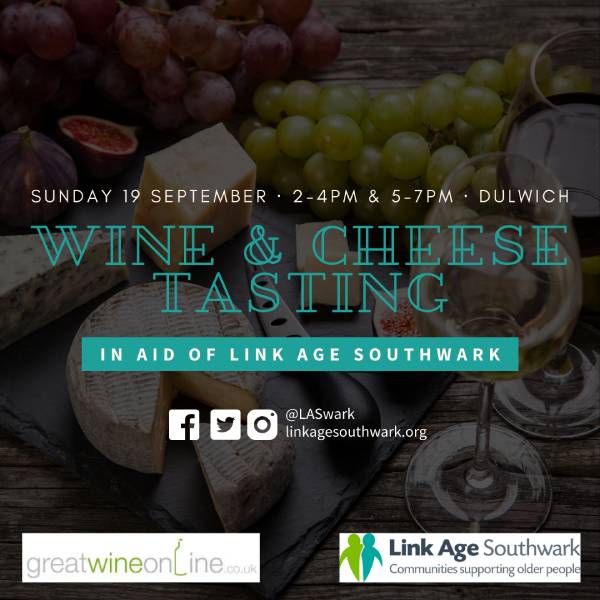 Wine and Cheese Tasting Event: in aid of Link Age Southwark
Thursday November 18th 2021
7 -9 pm Venue TBD
Join us and help raise funds for this wonderful charity
GreatWineOnline is running a wine tasting event with Link Age Southwark, to give our supporters the opportunity to get together in a relaxed atmosphere, taste some great wine and raise funds for this valuable charity. The event will take place in Dulwich, London (exact venue to be announced)

Link Age Southwark is a vibrant local charity providing friendly volunteer support to over 600 older people in the London Borough of Southwark, who are feeling lonely or isolated.
During this exclusive evening, GreatWineOnline and Link Age Southwark have joined together to run a fun and informative event, whilst raising funds for a good cause.
We will have several wine tasting "stations" where you can try up to 12 different wines and cheeses, which Steve The Cheese Parker has chosen to complement them. We have chosen wines from around the world, all with a wow factor and some which you may not have had the chance to taste before.
Steve will be there to sign copies of his book (British Cheese On Toast), together with the illustrator.
To join us, please purchase your tickets below – for every ticket, GWO will be making a donation of £10 to the charity.
If you place an order on the day of the value £95 and over, your full ticket price will be donated to the Charity.
You will also be entered into a free raffle on the day, with the chance to win a £50 GWO gift voucher! The voucher can be used online to join an online tasting event, or to buy wine to that value.